Music…one of life's few pursuits that can transcend time, language, culture, and geography. The rich travel experience offered by International Music Tours (IMT) will allow your choir, orchestra, band or other arts group to transcend boundaries as well. We will take you on a trip of a lifetime, journeying into the concert halls of Europe.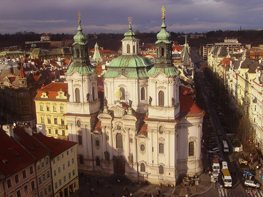 Drawing on our 20+ years of travel experience, IMT expertly tailors itineraries that reflect the unique goals and requirements of your group. Whether it's playing in Haydn Hall in the Esterhazy Palace, Karlskirche in Vienna or the Church of St. Nicholas in Prague, IMT can make it happen.
Our reputation as Canada's premier music tour company was built on our ability to consistently offer high quality, cost-effective travel opportunities to groups of all sizes, performance abilities and ages. Local guides and staff tour representatives provide unparalleled knowledge, expertise and approachability when it comes to understanding the culture, language and finer nuances of the destination countries.
From the conception, to the creation, to the implementation of your trip, International Music Tours will be with you every step of the way. From organizing upfront travel logistics and coordinating airport tickets and departures, to managing accommodations, trasportation, on-site excursions and performances, our years of experience will make your trip stress free. We handle the details so you can focus on creating music and memories.
Call now to learn more about receiving a sound experience worldwide for your choir, orchestra or band at 905.513.6901 or send us a message today by clicking here.
All payments for ALL travel services are to be made payable to:
Uniglobe Enterprise Travel Ltd., 34 Britain Street, Suite 200, Toronto ON, M5A 1R6
website: www.premieregroup.com
TICO Number : 1810380